Priligy
Buy Priligy online without going to a Doctor
Priligy should be taken an hour or two before sexual activity
Start your online consultation from the Premature Ejaculation treatments page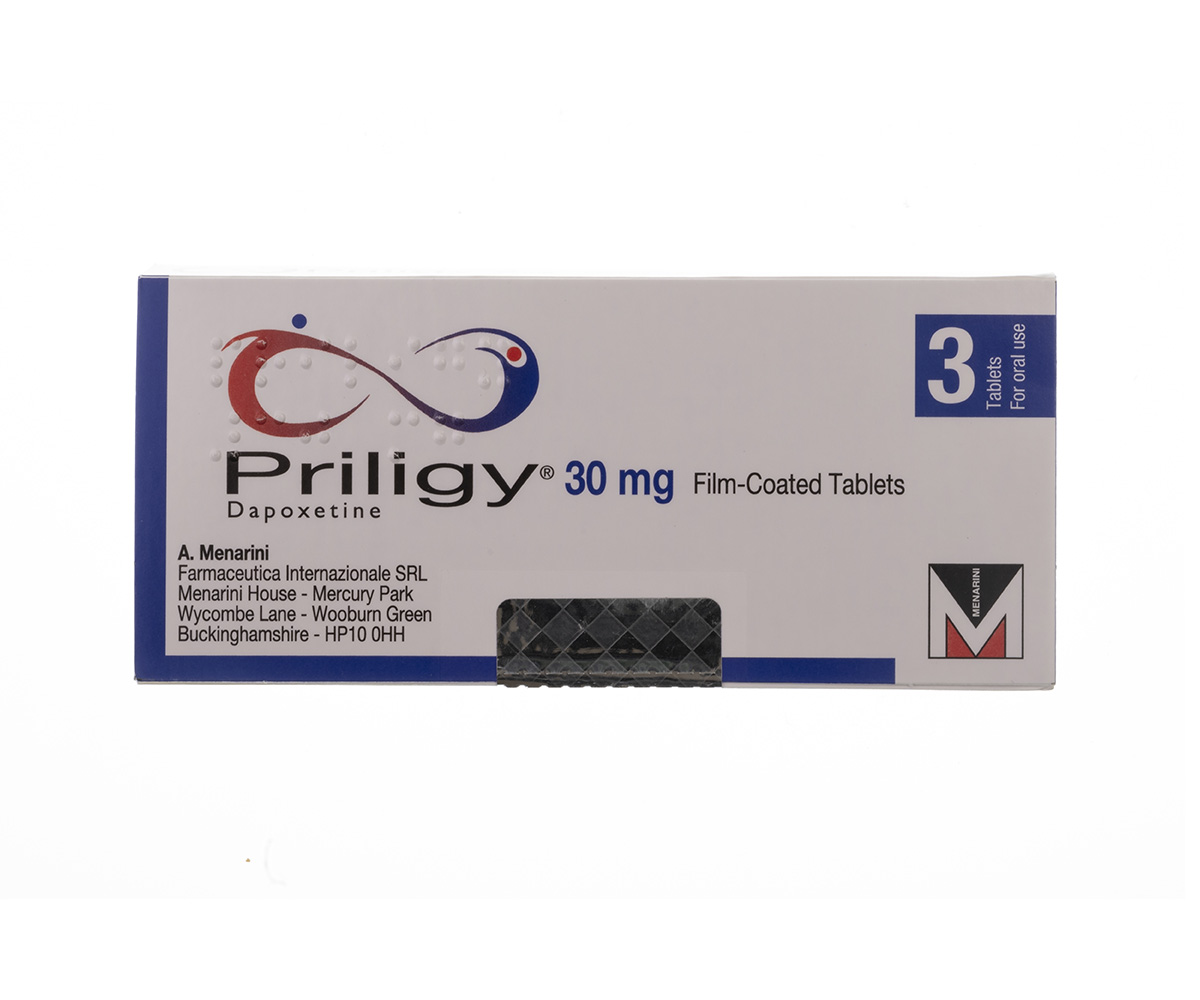 Pricing
We guarantee to beat any price you find online and offer free delivery with every order.
Important note: To undertake a consultation and purchase this product you must go back to the Premature Ejaculation Treatment Page and click on 'Start Online Consultation'.
| Quantity | 30mg | 60mg |
| --- | --- | --- |
| 3 | £22.99 | £29.99 |
| 6 | £43.49 | £54.99 |
| 12 | £79.99 | £98.99 |
Priligy
It is common for men to experience problems with ejaculation. The three main types are premature, delayed and retrograde ejaculation. While such concerns can arise at any time, if you have a persistent issue, you may want to seek further medical advice.
Premature ejaculation is the most common of the three, characterised by ejaculating too quickly during sex. Occasional episodes are common and not a cause for worry, but treatment may prove beneficial if you find that approximately half your attempts at intercourse result in premature ejaculation.
The condition can be caused by physical and/or psychological factors, so addressing the root cause will be necessary in order to tackle the problem effectively. Physical causes include prostate or thyroid problems, or the use of recreational drugs. Psychological factors include stress, depression, relationship problems and performance anxiety.
Steps you can take yourself to help address the issue include using a thicker condom to decrease sensation, masturbating an hour or two before sex and taking breaks during sex.
There is also medication available to help treat premature ejaculation, such as Priligy, which is a selective serotonin reuptake inhibitor (SSRI).
How does Priligy work?
The active ingredient in Priligy is dapoxetine, which is an SSRI that works by boosting serotonin levels in the body. Increasing the serotonin levels causes a delayed reaction in the parts of the brain responsible for ejaculation, thereby prolonging the time it takes to reach orgasm.
It is currently only licensed in men aged between 18 and 64 who have experienced premature ejaculation for at least six months (ejaculating within two minutes of penetration). It proves successful in approximately eight out of ten men and a doubling or tripling of the time an erection lasts before ejaculation should be noticeable.
How to take Priligy
One tablet should be taken one to three hours before sex, with or without food. Avoid alcohol consumption when taking Priligy, as this can exacerbate some side-effects and compromise the effectiveness of the medication. Never take more than one tablet within 24 hours.
It is at its most effective one to three hours after a tablet has been taken, but effects can occasionally be retained for up to 12 hours.
Are there any side-effects to taking Priligy?
As with any medication, there is a risk of side-effects when using this medication, such as:
Dizziness

Headache

Fainting

Nausea

Diarrhoea
Note that Priligy is a temporary solution and will not cure premature ejaculation. It is also unable to address the root cause of the problem, so may be more effective when taken alongside other treatment options, such as counselling or psychotherapy.
Priligy is available to order discreetly online here at Menschem, following a confidential consultation.