ED Starter Pack
Buy ED treatment online without going to a Doctor
Find the best ED treatment for your lifestyle
Start your online consultation from the Erectile Dysfunction treatments page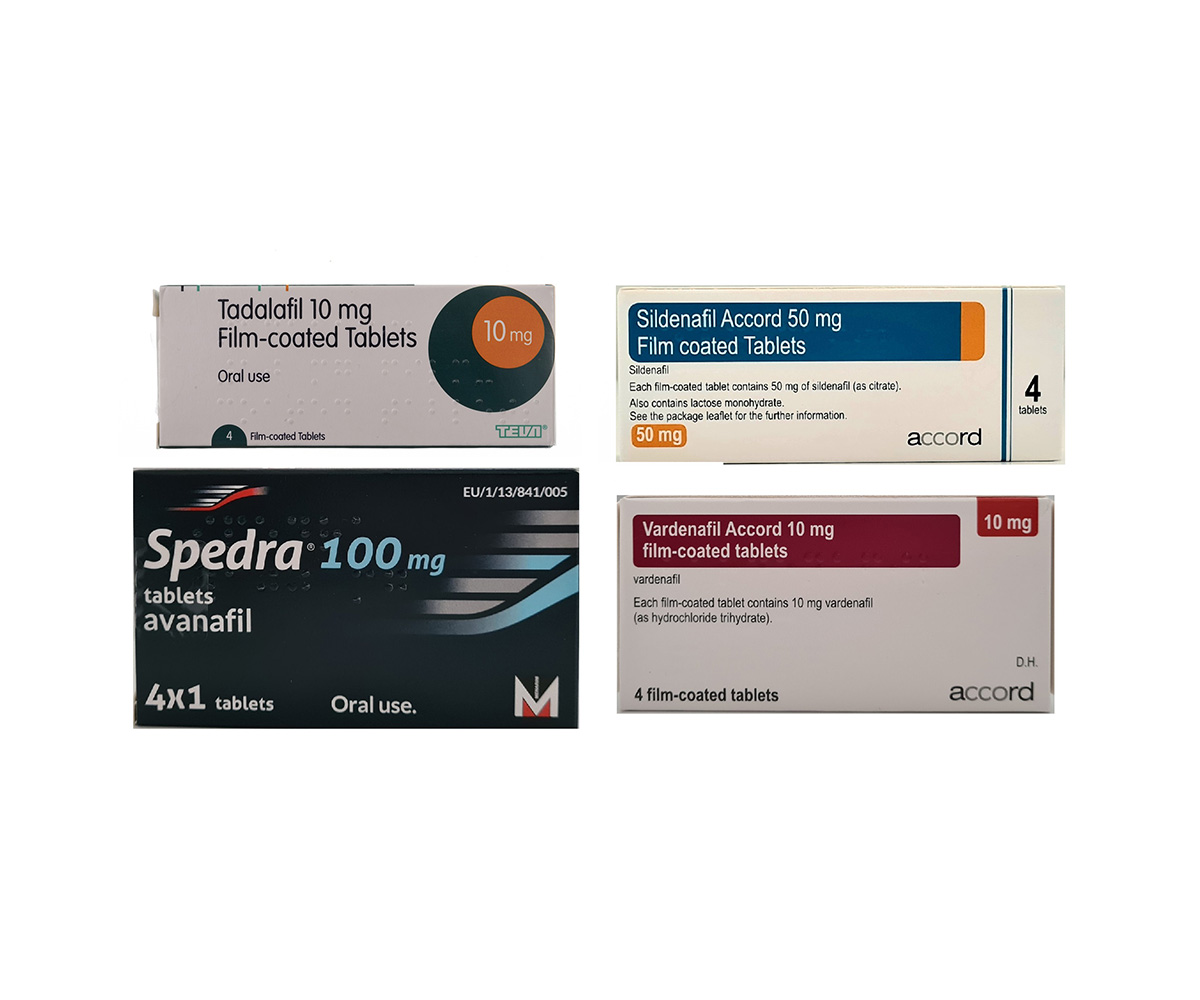 Pricing
We guarantee to beat any price you find online and offer free delivery with every order.
Important note: To undertake a consultation and purchase this product you must go back to the Erectile Dysfunction Treatment Page and click on 'Start Online Consultation'.
ED Starter Pack Contents:
Medication
Strength
Quantity
Sildenafil
50mg
8
Tadalafil
10mg
8
Vardenafil
10mg
4
Spedra
100mg
4
ED Starter Pack
If you have not tried any previous treatment for erectile dysfunction or are unsure as to which one is most appropriate for you, we can supply an ED starter pack to allow you to try all the ones we provide to see which one best fits your lifestyle.
Please remember you can only take a maximum of ONE type in 24hrs, extending this to a 48hr gap if you've taken tadalafil as its effects can last longer.
Our ED starter pack contains the 4 main treatments available for erectile dysfunction.
| Medication | Time to Take Effect | Effectiveness |
| --- | --- | --- |
| Sildenafil | 45 - 60 mins | 6 - 8 hours |
| Tadalfil | 30 - 60 mins | Up-to 36 hours |
| Vardenafil | 30 - 60 mins | 6 hours |
| Spedra | 15 - 30 mins | 4 hours |
Sildenafil 50mg is the usual starting dose for sildenafil. It can be increased to a 100mg if there has not been a satisfactory effect. It can be reduced to 25mg if you find the side effects too strong for you.
Tadalafil and vardenafil are both supplied at the 10mg dose, again like sildenafil these can be doubled if the dose works but not quite to its full potential. The vardenafil dose can be reduced if the 10mg dose is too high.
Spedra is supplied at the 100mg dose. Like the others it can be doubled if it works but not quite to its full potential. If the dose is too strong or undesired side effects are felt then it can be reduced to 50mg.