ED Starter Pack
Buy ED treatment online without going to a Doctor
Find the best ED treatment for your lifestyle
Start your online consultation from the Erectile Dysfunction treatments page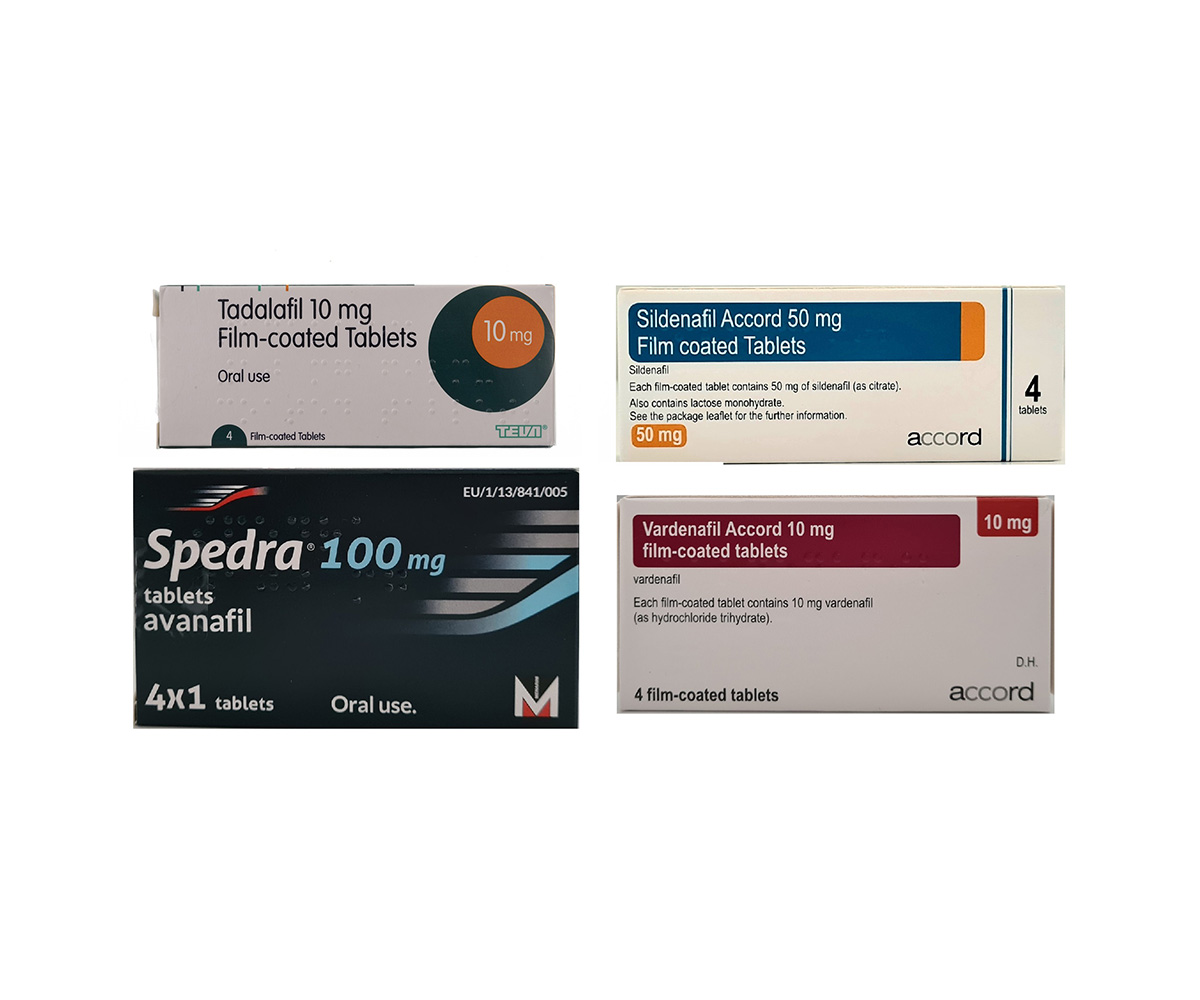 Pricing
We guarantee to beat any price you find online and offer free delivery with every order.
Important note: To undertake a consultation and purchase this product you must go back to the Erectile Dysfunction Treatment Page and click on 'Start Online Consultation'.
ED Starter Pack Contents:
Medication
Strength
Quantity
Sildenafil
50mg
8
Tadalafil
10mg
8
Vardenafil
10mg
4
Spedra
100mg
4
ED Starter Pack
If you have not tried any previous treatment for erectile dysfunction or are unsure as to which one is most appropriate for you, we can supply an ED starter pack to allow you to try all the ones we provide to see which one best fits your lifestyle.
Please remember you can only take a maximum of ONE type in 24hrs, extending this to a 48hr gap if you've taken tadalafil as its effects can last longer.
Our ED starter pack contains the 4 main treatments available for erectile dysfunction.
| Medication | Time to Take Effect | Effectiveness |
| --- | --- | --- |
| Sildenafil | 45 - 60 mins | 6 - 8 hours |
| Tadalfil | 30 - 60 mins | Up-to 36 hours |
| Vardenafil | 30 - 60 mins | 6 hours |
| Spedra | 15 - 30 mins | 4 hours |
Erection problems are not unusual, and the majority of men will have difficulty in getting an erection strong enough for a fulfilling sexual experience at some point. Doctors refer to the inability to get an erection, or maintain one long enough to have satisfactory sex, as erectile dysfunction (ED), or sexual impotence. 
There's no need to suffer in silence if these problems are affecting you. While it might not feel comfortable to talk to a medical professional about your sexual functions, a brief consultation with an online pharmacist could give you access to the right treatment. 
There are now a range of safe, clinically proven, and very effective products on the market which are available without a prescription. All you need to do is answer a few straightforward questions about your medical history, and you could be posted an ED starter pack in discreet packaging, for example.
What does an ED starter pack contain?
There are four main treatments for ED, and the aim of the starter pack is to allow you to discover which one works best for you, without having to make separate orders. These treatments are: Sildenafil, 50mg (the trade name for Viagra) Tadalafil 10mg (the trade name for Cialis) Vardenafil, 10mg, and Spedra, 100mg. 
All of these medicines contain a class of drugs known as PDE-5 (Phosphodiesterase type 5) inhibitors. These help to increase the flow of blood to the penis for a window of time between four and 36 hours, depending on the brand. Clinical trials have shown PDE-5 inhibitors are effective for 74% of men who have been experiencing ED problems. 
How do you take ED medication?
Each of the different types of medication in the pack will contain the standard dose, and this should be taken with a glass of water, about an hour before you want to have sex, or whatever the instruction leaflet advises. It's very important to take only one type of medication per 24 hours, or 36 hours in the case of Tadalafil. 
The doses can be increased to help them reach maximum potential, if necessary, within the limits of the manufacturer's guidelines. In all cases, external sexual stimulation is also required to achieve an erection, which will subside as it normally would after sex. The treatment is most effective on an empty stomach, and alcohol intake should be moderate. 
Are there any side effects?
Like all medications, those which contain PDE-5 inhibitors can have side effects. These may vary slightly depending on the brand. The most common side effects include: 
Headache

Nausea

Dizziness

Flushing

Palpitations

Stuffy nose

Indigestion

Back pain
Less common side effects include vision disturbances, hearing loss, and chest pain. If you are experiencing persistent or severe symptoms, seek medical advice.
It is important to bear in mind that if you have persistent ED, you should consult a doctor to rule out any serious underlying causes, such as high blood pressure or cardiovascular disease.
ED starter packs can be ordered online, after a virtual consultation with a certified pharmacist.